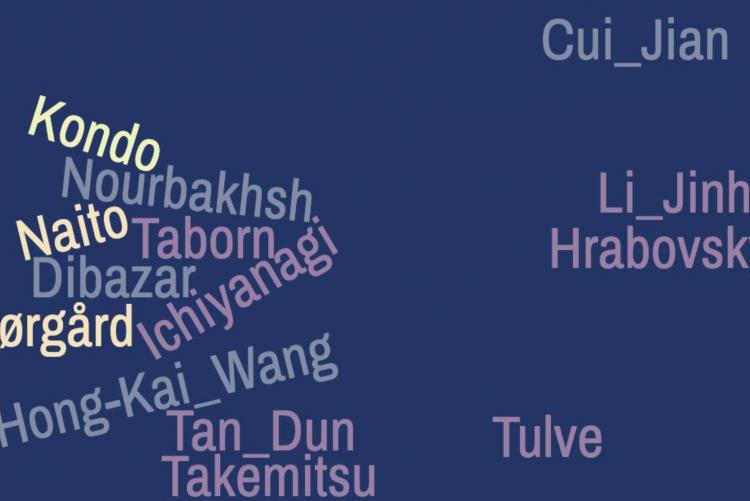 Mission statement

To create a platform for scholars to research underrepresented and neglected new music from around the world, considering the dynamics of musical canonicity and marginality, as well as insider/outsider perspectives and postcolonial issues.
Mailing list

The group maintains a mailing list. To join the group, click on "contact owner."
HOW TO JOIN

There are no requirements for membership; simply attend our meetings at annual SMT meetings to participate.
Leadership and Contact Info
Role
Name
Email
Co-chair
Desirée Mayr
djmayr@gmail.com
Co-chair
Ji Yeon Lee
jlee136@uh.edu
Board members
Tomoko Deguchi, Seokyoung Kim, Jungmin Mina Lee, Edwin Li, Toru Momii, Noel Torres-Rivera, Mingyeong Son, Anton Vishio
Past Activities
2022

The Global Interculturalism and Musical Peripheries Interest Group (GIMPIG) hosted a session for the joint symposium "Decolonizing East Asia in Music Research and Pedagogy" at this year's SMT/AMS/SEM meeting. Three speakers gave presentations: Ji Yeon Lee's "Empowering Cio-Cio-San in Madama Butterfly: Against Bias and Cliché of the Asian Female," He Xuan's "Old Imageries, "New Cultural 'Re-merger': Lei Liang's Inheritance and Development of Chou Wen-Chung's Wenren Style," and Gui Hwan Lee's "Contextualizing Unsuk Chin's Post-Colonial Creativity: A Case Study of Gougalon: Scenes from a Street Theater (2009/2011)." Lee also participated in the symposium's panel discussion and talked about the "decolonization" and "decentralization" in music theory.

2021

The Global Interculturalism and Musical Peripheries Interest Group (GIMPIG) hosted two sessions in SMT 2021. A special session "Celebrating Unsuk Chin" presented three papers, including Jungmin Mina Lee's "Unsuk Chin's Textural Expansion and Collapse as Formal Processes," Imri Talgam's "A Perception-informed Approach to Performance of Metric Structure in Unsuk Chin's Etudes," and Yayoi Uno Everett's "Ritual and Rotation in Unsuk Chin's Šu: Concerto for Sheng and Orchestra (2009)." The IG also held a session "Beyond Biases, Borders, and Boundaries" during the regular meeting time, as a response to the current academic climate. The session featured three papers, Andrew Chung's "Racialized Neoliberalism and the Pitfalls of Meritocratic Ideology in the (Musical) Academy," Toru Momii's "Moving Beyond Representation: Music Theory and the Coloniality of Power," and Ya-Hui Cheng's "The Oriental Fantasy and Its Problems: Remapping the Image of Madame Butterfly in the Twenty-first Century," joined by two respondents, Jan Miyake and Eric Hung.

2020

The SMT Global Interculturalism and Musical Peripheries Interest Group (GIMPIG) co-hosted with Analysis of World Music Interest Group, a successful 2-hour symposium at SMT 2020 entitled "Counterframing Music Theory: Minorities and Marginalities." The symposium was inspired by the papers on race and ethnicity by Yayoi Uno Everett and Philip Ewell in the SMT 2019 Plenary Session. Eight papers on issues of race in pedagogy and scholarship, musical and cultural theories, colonial and post-colonial intersection, non-western and non-white perspectives, and posthumanist music theory were presented with Everett and Ewell serving as the respondents. Following are the presenters:

Dustin Chau, "Gates' Signifyin(g), Kane's Ontology: Jazz Standard Replications Through an Afrological Lens"
Clare Sher Ling Eng, "Between Cultural Appropriation and Perpetuating White Superiority: Are There Really Good Choices Left?"
Nathan Lam, "Jianpu and the Third Solfege"
Gavin Lee, "Posthumanist Music Theory, Or, The End of Formalism"
Stephen Lett, "Hungry Theorizing"
Lucy Liu, "Counter-framing and the Styles of Analytical/Critical Discourse"
Priyanka Venkatesh, "Discovering India in Western Art Music: An Exploration of Exoticism and Interculturality in Works for Western Violin"
Anna Yu Wang, "In Exchange for Modernity: Jianpu Notation as a Colonial Technology"

GIMPIG also served as the co-organizer of a special session: Modulations and Intersections: Disability and the (Un)Critical Role of Music (2020), with the SMT Music and Disability Interest Group and AMS Study Group on Music and Disability.

2019

Barry Wiener (New York City), Dialectical Polarities in Per Nørgård's Nuit des Hommes (1996)
Yahui Cheng (University of South Florida), Who's Authorship? Authenticity in Chinese Popular Music under Global Modernism (case study in Li Jinhui's Drizzle, 1927)
Tomoko Deguchi (Winthrop University), The Appeal of the Foreign in Toshio Hosokawa's Opera Matsukaze (2010)
Gavin Lee (Soochow University), The Promise of Global Musical Modernism

Online workshop


We held a "Global Musical Modernism" workshop to create a framework for decentering the West and expanding the spatial and temporal boundaries of Western modernism, based on Hayot et. al. eds., A New Vocabulary for Global Modernism (Columbia University Press, 2016).

Participants: Gavin Lee, Tomoko Deguchi, Yahui Cheng.

2018

Panel

Navid Bargrizan (University of Florida), Polymodality, Polyphony, and Microtonality in Hamidreza Dibazar's Persian Quartet
Miki Kaneda (Boston University), Hong-Kai Wang's Southern Clairaudience and Listening as Decolonial Feminist Work
Penny Brandt (Institute for Composer Diversity), The human equation: fractal form and activism in the music of Niloufar Nourbakhsh
Joshua Banks Mailman (Columbia University), Trans-cultural-stylistic Solutions of Toshi Ichiyanagi's Transfiguration of the Moon (1988), for Shô and Violin
Antares Boyle (University of Northern Colorado), Flexible Grooves and Formal Processes in Craig Taborn's Avenging Angel (2011)
Xie Zhangmin, Tan Dun's Ode to Nanxiang
Ji Yeon Lee (University of Houston), Decoding the Riddle: Unsuk Chin's Alice in Wonderland Tea-Party
Oksana Nesterenko (Stony Brook University), Algorithmic Method and Delicate Patterns in Leonid Hrabovsky's Concerto Misterioso
Craig B. Parker (Kansas State University), The Sori of Young Jo Lee, with an emphasis on Sori No. 13 for unaccompanied trumpet

2017

Tomoko Deguchi (Winthrop University): Toru Takemitsu (Japan), Far Calls. Coming, far! (1980)
Anton Vishio (William Paterson University): Jo Kondo (Japan), Paregmenon (2011)
Barry Wiener (NYC): Akemi Naito (Japan/NY), The Woman in the Dunes for Solo Percussionist (2012, NY)
Jungmin Lee (Montclair State University): Unsuk Chin (South Korea/Germany), Cello Concerto, 2008 (rev. 2013, premiered in London 2009)
Gavin Lee (Soochow University, China): John Sharpley (USA/Singapore), Emptiness (2002, Singapore)
Amy Baur (UC Irvine): Helena Tulve (Estonia), L'Équinoxe de l'âme (The Equinox of the Soul) (2008)
Ya-Hui Cheng (University of South Florida): Cui Jian (PRC), A Piece of Red Cloth (1991)