The Society for Music Theory is pleased to announce its 2023 publication award winners!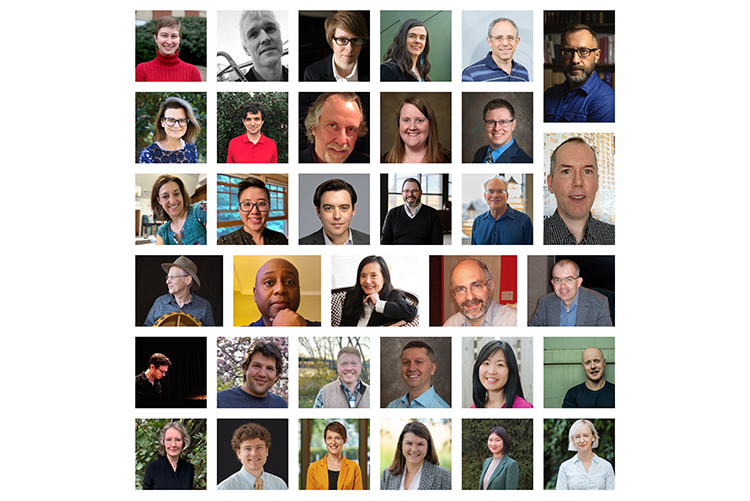 Wallace Berry Award
Paul Berliner, The Art of Mbira: Musical Inheritance and Legacy (University of Chicago Press, 2020)
Julian Hook, Exploring Musical Spaces: A Synthesis of Mathematical Approaches (Oxford University Press, 2022)
Victoria Malawey, A Blaze of Light in Every Word: Analyzing the Popular Singing Voice (Oxford University Press, 2020)
Outstanding Publication Award
Chelsea Burns, "'Musique cannibale': The Evolving Sound of Indigeneity in Heitor Villa-Lobos's Tres poêmas indigenas," Music Theory Spectrum 43, no. 1 (2021)
Steven Cahn, " Schoenberg, Al-Kindī, and the Unbound Braid: A Rendezvous in Barcelona a Thousand Years in the Making," The Musical Quarterly 104, no. 3-4 (2021)
Mariusz Kozak, "Feeling Meter: Kinesthetic Knowledge and the Case of Recent Progressive Metal," Journal of Music Theory 65, no. 2 (2021) 
Rachel Lumsden, "Music Theory for the 'Weaker Sex': Oliveria Prescott's Columns for The Girl's Own Paper" , Music Theory Online 26, no. 3 (2020)
Omer Maliniak & Yoel Greenberg, "Follow the Solo: The Formal Evolution of the Concerto in the Eighteenth Century," Music Theory Spectrum 44, no. 2 (2022) 
Emerging Scholar Award (book)
Mariusz Kozak, Enacting Musical Time: The Bodily Experience of New Music (Oxford University Press, 2020)
Christopher White, Music in the Data: Corpus Analysis, Music Analysis, and Tonal Traditions (Routledge, 2022)
Emerging Scholar Award (article)
Antares Boyle, "Flexible Ostinati, Groove, and Formal Process in Craig Taborn's Avenging Angel," Music Theory Online 27, no. 2 (2021)
Marc Hannaford, "Fugitive Music Theory and George Russell's Theory of Tonal Gravity," Theory and Practice 46 (2021)
Catrina Kim, "Issues in Teaching Music Theory Ethically: Reframing University Directives of Antiracist and Decolonized Curricula," Theory and Practice 46 (2021)
Mark Micchelli, "Sound Structures and Naked Fire Gestures in Cecil Taylor's Solo Piano Music," Music Theory Online 28, no. 3 (2022)
Gilad Rabinovitch, "In search of Carl Czerny's Schemata: Listening to Early Nineteenth-Century Improvisation," Music Theory Spectrum 44, no. 2 (2022)
Outstanding Multi-Author Publication Award
Philip Duker, Carla Colletti, Bryn Hughes, Meghan Naxer, Dan Shanahan, Chris Stover, Leslie Tilley, and Anna Yu Wang, eds., "Beyond Western Musicalities," Engaging Students: Essays in Music Pedagogy 8 (2020) 
William Moylan, Lori Burns, Mike Alleyne, eds., Analyzing Recorded Music: Collected Perspectives on Popular Music Tracks (Routledge 2022)
Citation of Special Merit
Daphne Tan, Editor; Daphne Tan & Christoph Neidhöfer, trans., Music Psychology by Ernst Kurth (Routledge 2022; original work published in 1931)
Music Theory Pedagogy Award
Timothy Chenette & Daniel Stevens, Foundations of Aural Skills (Pressbooks 2022)
Angela Ripley, "Post-tonal Postcards: Communicating Analysis and Reflection through Prose Writing," Journal of Music Theory Pedagogy 34, no. 1 (2020) 
Public-Facing Scholarship Award
Alyssa Barna, "The Dance Chorus in Recent Top-40 Music" , SMT-V 6, no. 4 (2020) 
Noriko Manabe, "Abe Road: Kuwata Keisuke's Beatles Parody," SMT-V 8, no. 1 (2022) 
Award for Diversity course Design
Alan Dodson, "Meter and Timing Across Cultures"
---
View the Publication Awards page for more information on these awards. A list of winners in prior years can be found on the Past Publication Awards page.